EVERSOLO DAC-Z8
DAC ES9038Pro XMOS XU316 Bluetooth 5.0 32bit 768kHz DSD512 MQA
EverSolo's DAC-Z8 is a high-end DAC that is extremely powerful. It embeds high-end components with notably an ESS ES9038Pro digital/analog conversion chip and a XMOS XU316 USB interface allowing it to support high-resolution audio streams and to provide a clear and detailed sound reproduction. The DAC-Z8 also offers a wide range of features that make it a versatile and efficient device.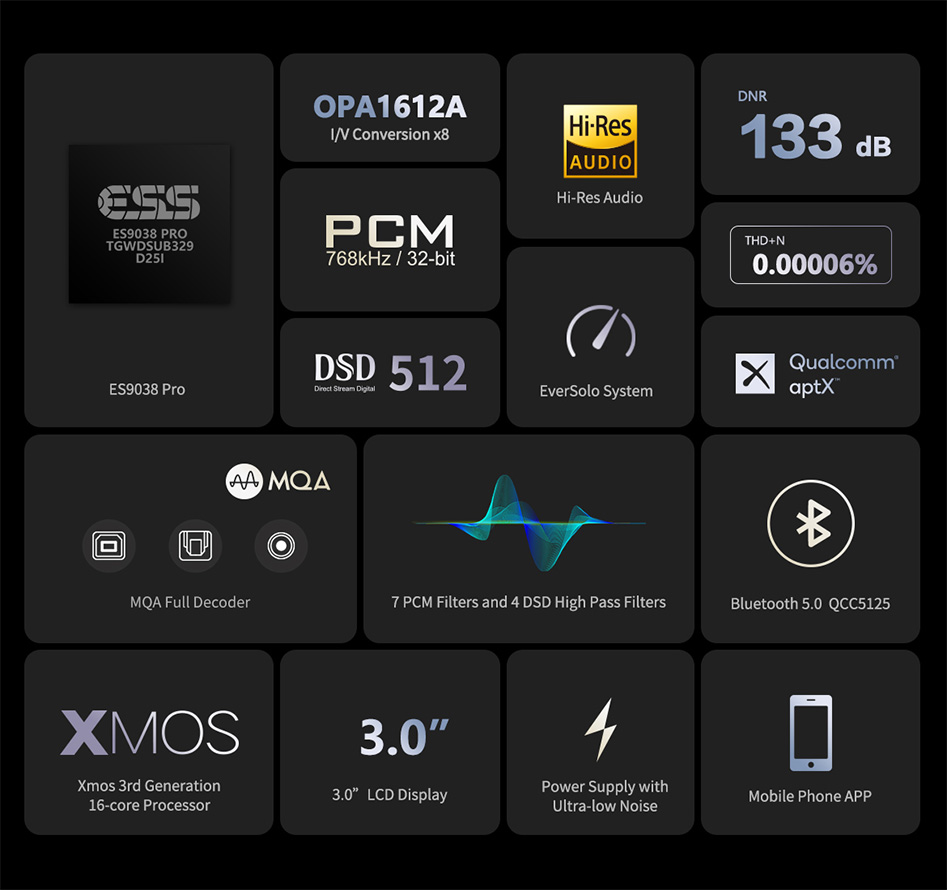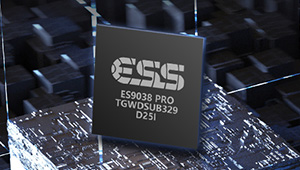 ES9038Pro DAC
The heart of the DAC-Z8, its digital-to-analog conversion stage, is equipped with an excellent ESS ES9038Pro chip. This ensures low distortion and noise for a truly convincing high-fidelity music experience. In addition, the DAC-Z8's audio circuitry is specifically calibrated to deliver its full potential.
XMOS XU316 USB Interface
The USB input of the DAC-Z8 is combined with an XMOS XU316 interface, which is able to process audio data quickly and efficiently for optimal signal transmission. This chip also supports high-resolution streams up to PCM 32bit 768kHz and DSD512 Native, as well as MQA files.
MQA Decoder
The EverSolo DAC-Z8 supports the decoding of MQA (Master Quality Authenticated) files from its USB, Toslink optical and coaxial inputs. This format allows to enjoy a sound quality as close as possible to the original studio recording.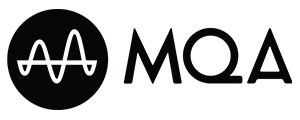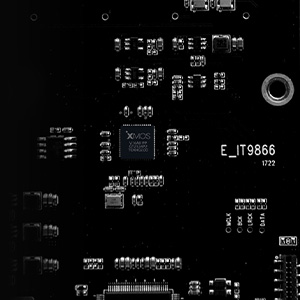 High precision clocks
The DAC-Z8 is equipped with two very high precision clocks on the frequencies 45.1584MHz and 49.152MHz. These allow you to enjoy a high quality decoding, ensuring a very low jitter for a detailed and precise sound..
Optimized I/V circuit
The I/V circuit of the DAC-Z8 consists of 8 OPA1612 OPAs. It uses multi-channel signal shunting compensation technology, with the 8 OPAs corresponding to the 8 output channels of the I/V conversion stage, ultimately providing a two-channel parallel output. In addition to the high-precision resistors, this circuitry assists in the lossless amplification of the XLR, RCA and headphone outputs, improving channel separation, dynamic range and sonic integrity.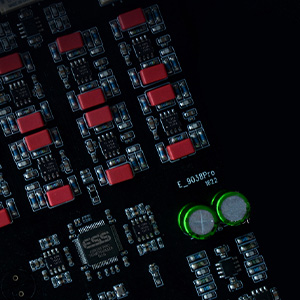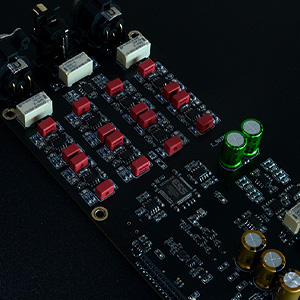 Amplifier circuit & Balanced preamp output
The DAC-Z8's analog audio circuitry is fully balanced. The XLR, RCA and headphone outputs are all processed by a balanced differential amplifier circuit for low noise and improved channel separation. The high-fidelity preamplifier circuitry provides precise and efficient volume control.
Bluetooth 5.0
In addition to a complete connectivity, the DAC-Z8 has a Bluetooth 5.0 Qualcomm QCC5125 receiver, which allows you to broadcast your music remotely, from a smartphone or a tablet for example, while supporting the codecs of high-resolution transmission aptX HD and LDAC for a high quality restitution in wireless.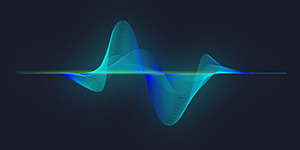 Digital filters
The EverSolo DAC-Z8 offers no less than 7 PCM filters and 4 DSD filters. These allow you to adapt the sound reproduction of the device according to your listening preferences and your audio system.
Low ripple power supply stage
A low-noise power supply stage and capacitor filter have been specifically designed for the DAC-Z8. They provide a clean, interference-free electrical signal to all of the unit's audio circuits for rich, accurate sound reproduction.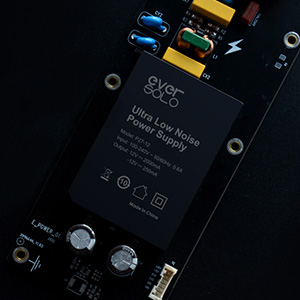 A powerful headphone amplifier
The DAC-Z8's headphone amplifier also performs very well and is capable of providing comfortable power to accompany headphones with impedance from 16 to 300Ω without difficulty. This one also has a two-step gain control to accommodate both demanding headphones and more sensitive earphones.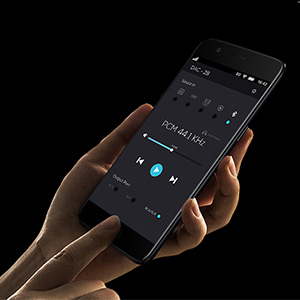 Color Screen & Intuitive Interface
The front panel of the DAC-Z8 features a beautiful 3″ color LCD screen. This one displays an ergonomic and intuitive interface allowing you to access all the functions and parameters of the DAC.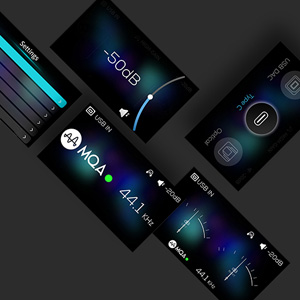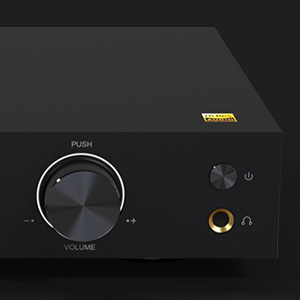 Multi-function button
The DAC's multi-function knob can be used to control volume level, navigate menus, select a source or output, change filters, change the display, and more. It allows full control of the device in a convenient way.
Aluminum frame
The EverSolo DAC-Z8 is dressed in a beautiful, sturdy aluminum chassis that has been precision-machined by CNC (numerical control). It offers a modern and sober design, allowing it to be easily integrated into any audio system.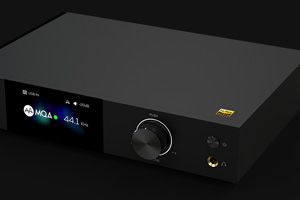 Model
EverSolo DAC-Z8
Display Screen
3-inch LCD Screen
Chassis
Aviation aluminum alloy
DAC
ES 9038Pro
Audio Processor
XMOS XU316
OPA Chip
OPA1612*10
Power Supply
Low noise switching power supply
Bluetooth Audio Input
Qualcomm QCC5125 Bluetooth module, BT5.0
Support SBC/AAC/aptX/aptX LL/aptX HD/LDAC Bluetooth protocol
USB-B DAC Input
Compatible with Windows (7, 10), Mac, Android and IOS
Up to stereo DSD512, PCM 768KHz 32Bit and MQA
USB-C DAC Input
Compatible with Windows (7, 10), Mac, Android and IOS
Up to stereo DSD512, PCM 768KHz 32Bit, MQA
Optical Audio Input
Up to stereo PCM 192KHz 24Bit, DSD64 Dop and MQA
Coaxial Audio Input
Up to stereo PCM 192KHz 24Bit, DSD64 Dop and MQA
Analog Audio Output
Preamp output: XLR (balanced), RCA;
Headphone amp output: 6.35mm single-ended
USB Port
USB2.0*1(only for firmware upgrade)
Control Methods
Remote control, mobile APP control and knob control
Headphone Impedance
16-300Ω (low gain mode:16-32Ω/high gain mode: 32-300Ω)
XLR Audio Characteristics
Output level(Vrms): 4.1Vrms@0dBFS
THD+N@A-wt: 0.000062%@1kHz(-124dB@1kHz)
THD+N@No-wt:0.000069%@1kHz(-123dB@1kHz)
Noise@No-wt: <1.2uVrms
SNR @No-wt: 133dB@1kHz
Frequency response: 20Hz-20kHz(±0.1dB)
Crosstalk: -130dB@1kHz
DNR @No-wt: 133dB@1kHz
RCA Audio Characteristics
Output level (Vrms): 2.3Vrms@0dBFS
THD+N@A-wt: 0.000086%@1kHz(-121dB@1kHz)
THD+)@No-wt: 0.000097%@1kHz(-120dB@1kHz)
Noise @No-wt: <1.5uVrms
SNR @No-wt: 126dB@1kHz
Frequency response: 20Hz-20kHz(±0.1dB)
Crosstalk: -123dB@1kHz
DNR@No-wt: 126dB@1kHz
Headphone
(low gain mode)
Output level(Vrms): 1.2Vrms@0dBFS
Maximum undistorted power: 45 mW@32Ω
THD+N@A-wt: 0.00015%@1kHz(-116dB@1kHz)
THD+N@No-wt: 0.00018%@1kHz(-115dB@1kHz)
Noise @No-wt: <2uVrms
SNR@No-wt: 124dB@1kHz
Frequency response: 20Hz-20kHz(±0.1dB)
DNR @No-wt: 119dB@1kHz
Headphone
(high gain mode)
Output level(Vrms): 2.8Vrms@0dBFS
Maximum undistorted power: 26 mW@300Ω
THD+N@A-wt: 0.00016%@1kHz(-116dB@1kHz)
THD+N@No-wt: 0.00016%@1kHz(-116dB@1kHz)
Noise@No-wt: <2uVrms
SNR@No-wt: 124dB@1kHz
Frequency response): 20Hz-20kHz(±0.1dB)
DNR @No-wt: 124dB@1kHz
Power Input
AC 110~240V 50/60Hz
Rated Power
9W
Dimensions
270mm(W) * 187mm(D)* 50mm(H)
Packing List
Remote control*1, power cable*1, USB cable*1, product manual*1