ZIDOO je nova tvrtka u nasem zastupnickom programu. Osnovana 2014 u proteklih devet godina postala je svjetski popularna sa svojim modelima video playera. Od 2022 u programu se nalaze i audofilima tri vrlo zanimljiva proizvoda. NeoAlpha i Neo S audio & 4K video playeri kao i vrlo zanimljiv DAC pretvarac EVERSOLO Z8 vrlo prihvatljive cijene.
ZIDOO NEO ALPHA HIGH-END AUDIO & VIDEO PLAYER
Streamer ES9038Pro WiFi DLNA AirPlay Roon Bluetooth 5.0 aptX HD LDAC 32bit 768kHz DSD512 MQA

Zidoo presents with its NEO Alpha a streamer as powerful as intuitive and design. It will allow you to broadcast your music with ease while enjoying excellent sound quality, all controlled through a high quality OLED screen and an ergonomic interface or from a dedicated mobile application.
ES9038Pro DAC
The audio decoding of the NEO Alpha is entrusted to an ESS ES9038Pro DAC, a high-performance model widely recognized by audiophiles. It also supports high-resolution audio streams up to PCM 32bit 768kHz and DSD512, as well as MQA file decoding.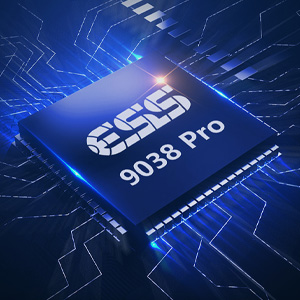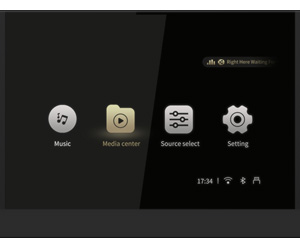 OLED Touchscreen
The 5″ high-definition OLED touchscreen is perfectly integrated into the NEO Alpha's aluminum chassis, making the Zidoo NEO Alpha convenient and ergonomic to use. The user experience is as intuitive as possible. Thus, it is possible to access very easily to all the options and information of the player thanks to this beautiful interface.
High speed SSD
The NEO Alpha is equipped with a 512GB SSD allowing you to store your music locally and access it extremely quickly. In addition, using an SSD instead of a hard drive reduces the temperature and vibration of the device.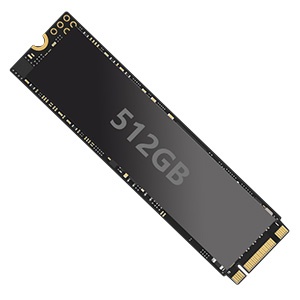 Dual discrete power supplies
The NEO Alpha features a dual power supply, independently powering the analog and digital circuits to eliminate interference and therefore improve sonic purity.

A complete connectivity
Particularly versatile, the NEO Alpha covers a very large majority of integration needs thanks to its complete connectivity. We can find coaxial, AES/EBU, optical and USB inputs. A connectivity completed by a wireless connectivity with Bluetooth and WiFi to control the player from a distance and access its music from its network.

| | |
| --- | --- |
| 1 | Power button |
| 2 | Antenna #1 |
| 3 | IR input |
| 4 | RS-232 Serial port |
| 5 | Optical input |
| 6 | Coaxial input |
| 7 | Single-ended RCA output |
| 8 | Antenn#2 |
| 9 | Antenna #3 |
| 10 | Power connector |
| 11 | Optical output |
| 12 | HDMI output |
| 13 | HDMI output (audio/DSD) |
| 14 | Port Ethernet RJ45 |
| 15 | USB Host inputs |
| 16 | USB-B input |
| 17 | Balanced XLR output |
Integrated headphone amplifier
In addition to its XLR and RCA pre-outputs, the NEO Alpha has a single-ended 6.35mm jack headphone output. Taking advantage of two gain settings, the NEO Alpha will have no trouble accompanying most headphones on the market.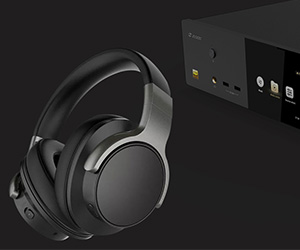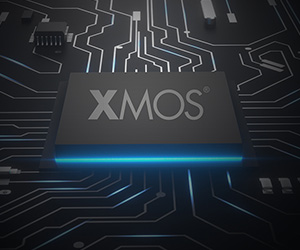 XMOS & Dual Clock
The NEO Alpha is equipped with a USB XMOS X216 interface ensuring a perfect reception and decoding of the USB audio stream. It supports audio streams up to PCM 32bit 768kHz and DSD up to DSD512. The NEO Alpha's circuitry also uses two Accusilicon AS318 high-precision clock oscillators to effectively eliminate jitter and ensure accurate and transparent audio reproduction.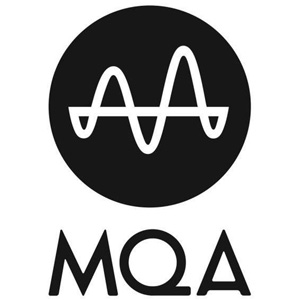 MQA Decoder
The NEO Alpha incorporates an MQA (Master Quality Authenticated) decoder, which allows you to play this type of file and enjoy sound quality as close as possible to the original studio recording. Moreover, MQA streams are light enough to be streamed.
Bluetooth 5.0
The Zidoo NEO Alpha's Bluetooth 5.0 reception uses a Qualcomm QCC5125 chip, which supports the high-definition transmission codecs aptX, aptX LL, aptX HD and LDAC, allowing you to enjoy high-quality sound reproduction over Bluetooth.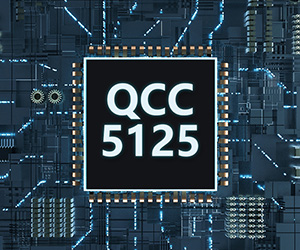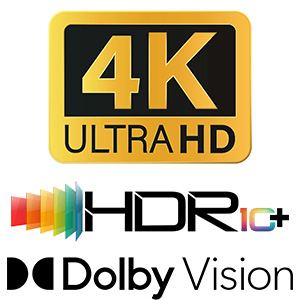 4K, HDR10+ & Dolby Vision
The NEO Alpha uses an RTD1619DR hexa-core 64-bit A55 processor and 4GB of DDR4 RAM. In addition to giving it excellent performance, these allow for 4K 60Hz video streaming. It even supports HDR10+, HLG and Dolby Vision technologies (and its VS10 engine) for an ever more vivid and crisp image.
Control app
The Zidoo NEO Alpha can be controlled from a smartphone or tablet with the free Zidoo Controller mobile app. This will give you easy access to your music while enjoying a remote interface for easy use from your sofa.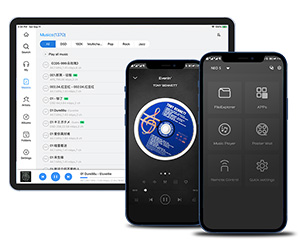 Technical characteristics
SPECIFICATIONS
Product type
Streamer
Touchscreen
5″ OLED
CPU
Realtek RTD1619DR ARM Cortex-A55 (hexa-core)
GPU
ARM Mali-G51 MP3
Internal SSD
512Go
DAC Chip
ES9038Pro
Video decoding
4K @ 60p HEVC/H.265 12Bit HDR10, HDR10+, Dolby Vision
Audio decoding
PCM up to 32bit 768kHz
DSD up to DSD512
MQA
CONNECTORS / CONNECTIVITY
WiFi
Dual-band 2.4G/5G, 802.11a/b/g/n/ac 2T2R MIMO 867Mbps
Ethernet
RJ45 (10/100/1000Mbps)
Main HDMI output
HDMI 2.0a (4K @ 60fps / 12bit / HDR / BT2020 / YCbCr 4:4:4:)
Support pass-through audio
Audio HDMI output
HDMI 1.4
Support DSD64 2ch/5.1ch
Support pass-through audio
Bluetooth 5.0 input
QCC5125 chip
Supported codecs: SBC, AAC, aptX, aptX LL, aptX HD, LDAC
Digital audio inputs
Bluetooth
1* USB-B
1* AES/EBU
1* Coaxial
1* Optical Toslink
2* USB-A (USB Host)
Digital audio outputs
Bluetooth
1* Coaxial
1* Optical
2* HDMI
USB
Analog audio outputs
1* Single-ended stereo RCA
1* Balanced stereo XLR
1* Single-ended Jack 6.35mm headphone output
Supported network protocols
DLNA
AirPlay
Roon Ready
UPnP
SMB
MEASUREMENTS
Balanced XLR output
Output level: 4.3Vrms
THD+N: -115dB
Noise: 2µVrms
SNR: 127dB @ 1kHz
Frequency response: ±0.25dB (20Hz-20kHz)
Crosstalk: -130dB @ 1kHz
DNR: 127dB @ 1kHz
Single-ended RCA output
Output level:2.1Vrms
THD+N: -114dB (0.000185% @ 1kHz)
Noise: < 2µVrms
SNR: 124dB @ 1kHz
Frequency response: ±0.25dB (20Hz-20kHz)
Crosstalk: -126dB @ 1kHz
DNR: 125dB @ 1kHz
Single-ended Jack 6.35mm headphone output (low gain mode)
Output level: 1.1Vrms
Puissance max: 76mW @ 16Ω, 38mW @ 32Ω
THD+N: -109dB (0.00035% @ 1kHz)
Noise: < 2µVrms
SNR: 124dB @ 1kHz
Frequency response: ±0.25dB (20Hz-20kHz)
Crosstalk: -126dB @ 1kHz
DNR: 123dB @ 1kHz
Single-ended Jack 6.35mm headphone output (high gain mode)
Output level: 3.4Vrms
Max power: 361mW @ 32Ω, 39mW @ 300Ω
THD+N: -111dB (0.00035% @ 1kHz)
Noise: < 2µVrms
SNR: 124dB @ 1kHz
Frequency response: ±0.25dB (20Hz-20kHz)
Crosstalk: -123dB @ 1kHz
DNR: 124dB @ 1kHz
GENERAL
Supply votlage
110-240VAC 50/60Hz
Dimensions (L*P*H)
430*300*105mm
Color
Black
Package
1* Zidoo NEO Alpha
1* Power cable
1* Remote control
3* Antennas
Sve Novosti